About the Industry
Canada's advanced wood products processing sector is large and growing. It makes a significant contribution to the Canadian economy through the numerous businesses and enterprises that make up the sector, the large number of people who earn a living working within it, and the wide variety of products produced and sold to customers worldwide. Advanced wood processing is comprised of five sub-sectors – furniture, cabinets, windows and doors, millwork, and factory-build housing and building components. Within these sub-sectors, there are over 9,200 companies.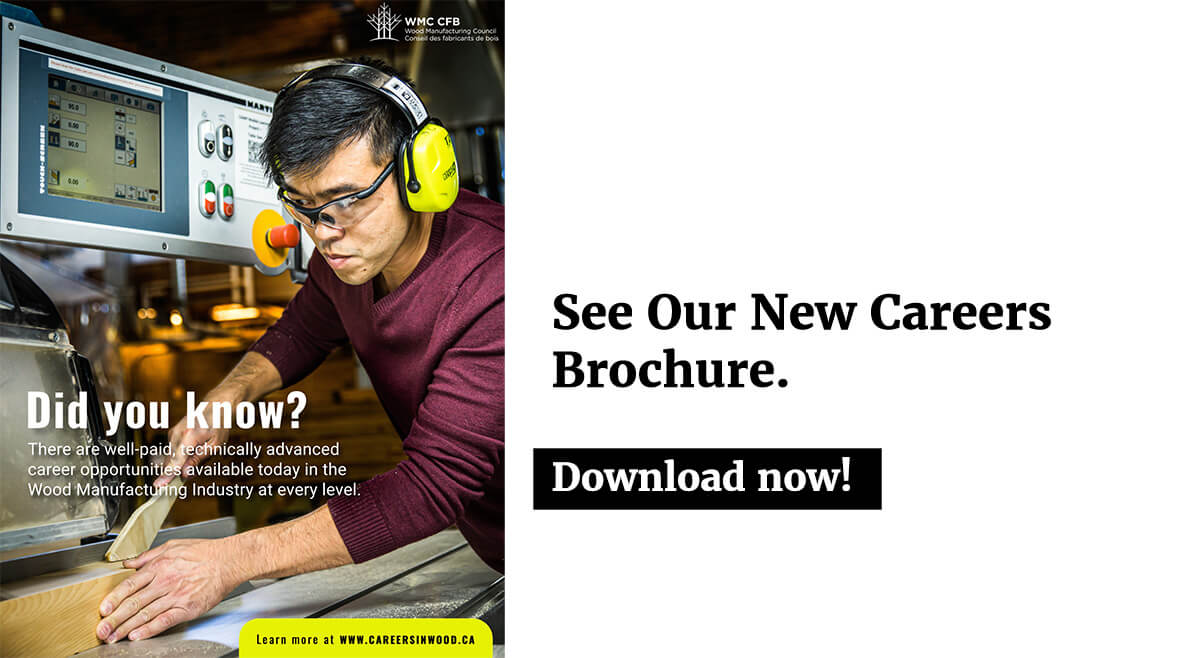 The sector is diverse and includes a substantial number of furniture manufacturers – ranging from household to office furniture, and producing casegoods and ready-to-assemble products. These products have various channels of distribution and ultimately are focused on the final consumer.
Canada's forests represent the third largest supply of wood-related natural resources worldwide, ensuring a continued source of materials for advanced wood products. The sector serves a sizeable domestic market, but nearly half of its output is focused on export markets. It exports a significant volume of products – mainly to the United States, but also to Japan and smaller volumes to several other markets. The total value of the sector's manufacturing shipments was estimated at around $17 billion in 2003. The value of its exports at that time was around $8 billion.
Canadian Wood products manufacturers are experiencing an acute shortage of employable people. This is a common and urgent concern among firms of all sizes, and within all sub-sectors. The wood products sector is not alone. Manufacturers in many other parts of the economy also are extremely concerned about this problem.
A recently commissioned Wood Manufacturing Council Human Resource Sector Study identified a range of employment and labour market issues related to the apparent shortage of labour including an acute shortage of vital skills. Based on extensive interviews with advanced wood products manufacturers and related parties carried out as part of this study, the study concludes that the 'skills gap' is due to a wide range of direct, indirect and frequently interlinked factors.
General Occupational Skills Most Frequently Identified by Firms as Being in Immediate Short Supply
Engineering
New Product Development
Materials Handling
Packaging
Product Assembly
Logistics & Transportation (e.g. Forklift Operating through Shipping)
CNC Programming
CNC Operating
Computer Skills (Enterprise-Wide)
Management of Intelligent Systems / Robotics
Interpretation (e.g. Ability to Read Blueprints, Computer Interface Data Analysis)
Preparation of Documentation, Report Writing, Presentations
Scheduling, Purchasing
Skills Sets Most Frequently Identified as Important in Management:
Leadership
Numerical
Mechanical (i.e. manual dexterity)
Marketing & Sales
Communications
Technical
Drafting & Design
The impacts are significant. Some manufacturers identify the lack of labour flexibility and mobility as the most immediate cause of their inability to expand their business. Others report that labour and skills shortages are preventing them from modernizing. They want to use more equipment, but can't find qualified operators.
Current Job Openings
The WMC is pleased to partner with other key stakeholders in the woodworking sector to offer WOODWORKINGJOBS.CA.  It was created to provide job seekers with a go-to destination to start their search for a career in woodworking and the many related fields.  It will also assist companies in the secondary wood products sector to identify and recruit skilled personnel by presenting job and career opportunities to potential team members for their organizations, all in one location.
Opportunities
Employment in the sector grew rapidly during the 1990s, from around 67,000 persons in 1992 to about 131,000 persons by 2003. Between 2003 and 2006, aggregate workforce growth slowed – due primarily to deteriorating demand conditions in the wood furniture sector.
Although there are some large scale manufacturers, Canada's advanced wood products manufacturing sector is highly fragmented. There are many thousands of small shops employing fewer than four people. Geographically, the sector is widely dispersed across Canada with large concentrations of manufacturing activity in or close to metropolitan areas. Regionally, the largest number of firms and employees are in Quebec and Ontario. The sector's workforce grew between 1999 and 2003 at around six percent annually.
Did you know?
9,122 establishments were operating in the sector within Canada in 2003

56% making furniture
20% producing cabinets
7% manufacturing windows and doors
4% millwork plants
13% producing building components and factory-built housing

Over 131,000 persons were employed in the sector in 2003. Nearly 76,000 persons (58% of the sector's workforce) were employed in furniture and cabinet-making. Furniture manufacturing is the largest single sub-sector in terms of employment, with more than 52,400 persons employed in 2003. Employment growth averaged 4.4% per year (1999-2003) – slower than the average rate for the sector overall (6.2%).
Millwork manufacturing is the second largest sub-sector (over 30,000 persons employed in 2003), and exhibited one of the fastest rates of workforce growth over the period (8.3% average annually).
Kitchen and bathroom cabinets, responding to very high levels of new homebuilding and renovations, employed over 23,000 persons in 2003 – and experienced a very rapid 9.8% annual growth rate in its workforce.
Window and door production and building components and factory-built housing employed about the same number of persons in 2003 – between 13,500 to 14,500 persons in each case.
Factory-built housing and building components manufacturing is comparatively labour intensive, and this sub-sector's workforce grew at a comparatively high average annual rate of 7.1% over the five year period to 2003.
Canada's window and door manufacturing sub-sector, on the other hand, includes a number of larger scale firms along with numerous specialty producers. Its overall workforce growth was a fairly modest 3.4% over the period-reflecting a high degree of capital intensity.
Small shops employing up to 4 persons are the heart of Canada's advanced wood processing sector, accounting for 60% of all establishments. However, Canada also has many global scale and internationally renowned, leading-edge medium and large scale producers. Many of these are very large scale employers.
Frequently Asked Questions